Rabotnik's Odessa-Story – Chapter 5
In the next few days we let ourselves drift. Odessa has got me under control, I have acclimated well, do not miss my home. Our experience has sharpened my perception and sensitized me, but I will not let take me the fun away. Already at the morning after, everyone in the hotel knows our story. Today it is raining, but the rain here is pleasant compared to Germany and also the usual german drop of temperatures, to at least 20 degrees Celsius, is absent. When it rains in Odessa, you know it ends and does not go for weeks. However, in the meantime I have learned why the locals often walk around with long pants and jackets in spite of the most beautiful weather.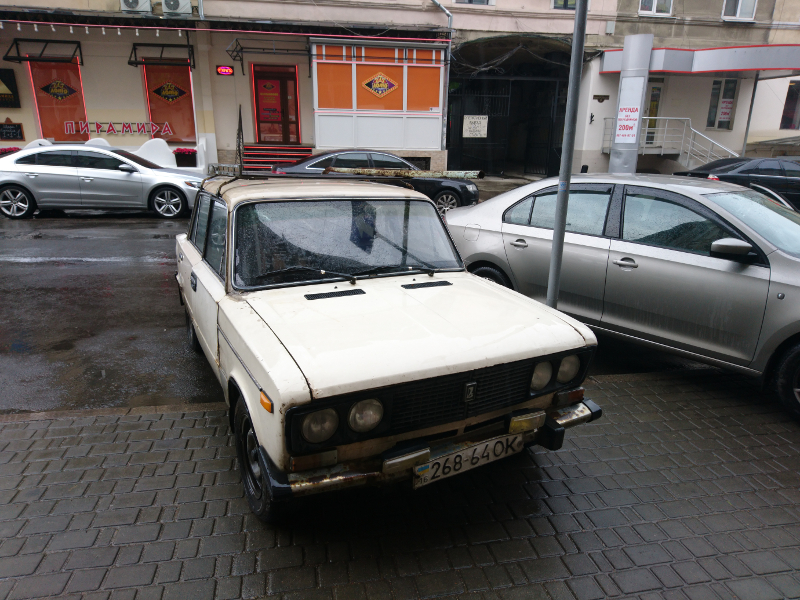 The proximity to the sea occasionally pulls a strong wind through the streets and alleys. In the sun you will burn, while in the shade you can get the feeling of freezing fastly. It is therefore advisable to always have a jacket with you, even on sunny days, at least on windy days. Otherwise the atmosphere of the city is mediterranean. At some places in Odessa, you think that this could be somewhere in southern Italy. There you will also find such ailing buildings and streets. After the hearty breakfast we leave the hotel for an excursion. In front of the main entrance of the hotel we meet two men in uniform, guarding a money cart in the backyard. They are heavily armed, one wears a Kalashnikov, the other has a pump gun on his back.
We stroll along the boulevard straight to the train station, which is about three kilometers away. The better hotels and shops are mostly guarded by security men, some wear military uniforms. Security cameras hang on numerous buildings. Just before the train station we reach a large market. Surrounded by hectic rush we push ourselves through the crowd of people. I firmly embrace the contents of my trouser pockets, because in such places caution is always necessary. There are pickpockets also here in Odessa, although not as many as in Prague, Rome or Barcelona. We pass a booth where a man offers German versions of Hitler's "Mein Kampf" for sale. However, I would not give a tedious kopeck for this miserable writing.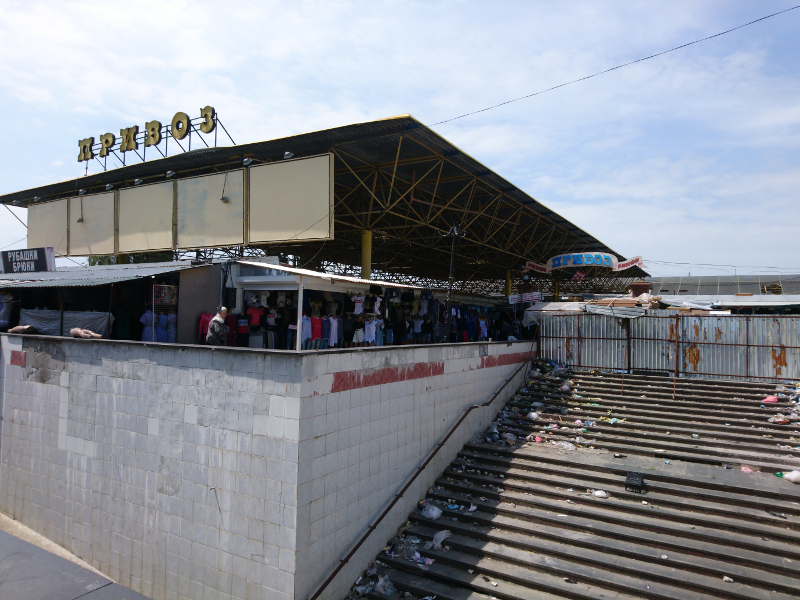 The area around the market is extremely dirty, everywhere is garbage. We continue to the train station and pass a park. This looks contrary maintained and clean, also the obligatory fountains may not be missing. The benches are lined with people, everyone seems busy. To cross the lawns is prohibited by signs, I feel reminded again to the German homeland. The parks in Odessa seem to be bestowed on a very high priority. They are almost impeccably maintained and you can clearly see that money is invested in these recreational facilities. I observe a few children playing. Here shows a striking contrast to Germany again.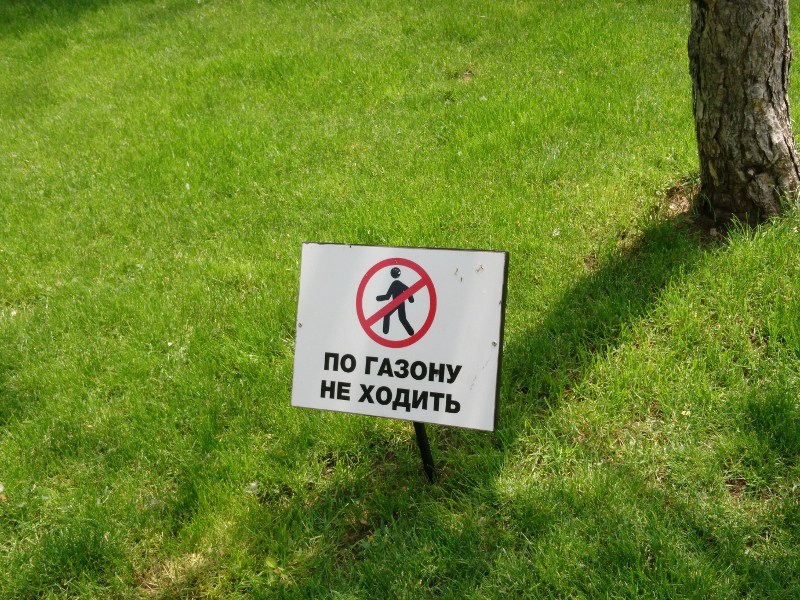 The children here behave mostly well and seem to be able to keep themselves busy. You can hardly hear any shouting and even conflicts seem to be solved peacefully. Quite in contrast to Germany where the blaspheming brats have to be entertained 24 hours a day. In the sheer desperation of the unnerved parents, they finally get handed the smartphone. We leave the park, pass the train station and head towards the beach. When we pass a residential area shortly afterwards, I feel a bit reminiscent to the Bronx. Again, the extremes of this city reveal themselves, the narrow gap between rich and poor, between aspiring growth and ubiquitous decay.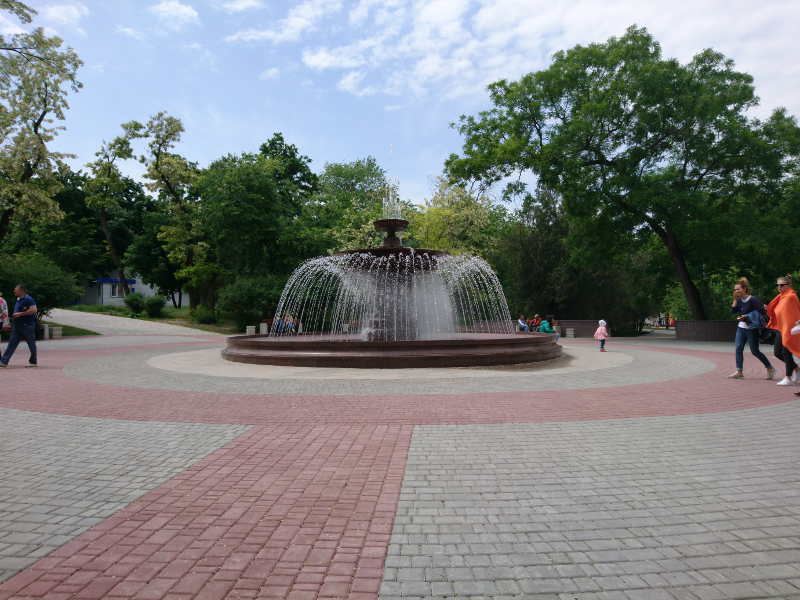 Along the house walls hang wild cable strands, the effort to lay internet and telephone in the wall, obviously do not care anyone here. The focus is on other things, the german order is searched in vain in this point. I admire the smeared art that adorns most of the walls here. It contains all sorts of political messages, but also modern elements from our world seem to be known here. In an underpass, we meet an old woman who plays the accordion and collects money in a bag on the floor. We'll leave her some bills. I speak to her and ask if I could take a photo for my German blog. She agrees. She tells us that she is 82 years old and has a 60-year-old son who just supports her barely.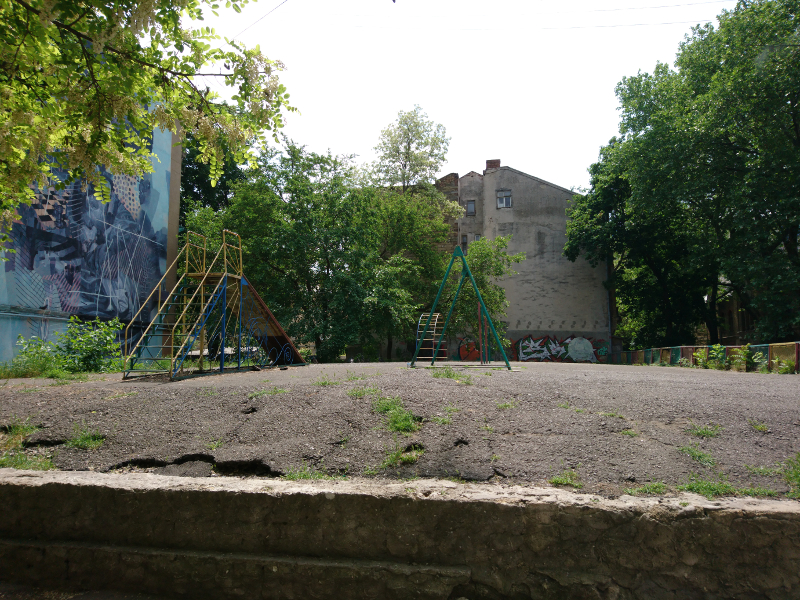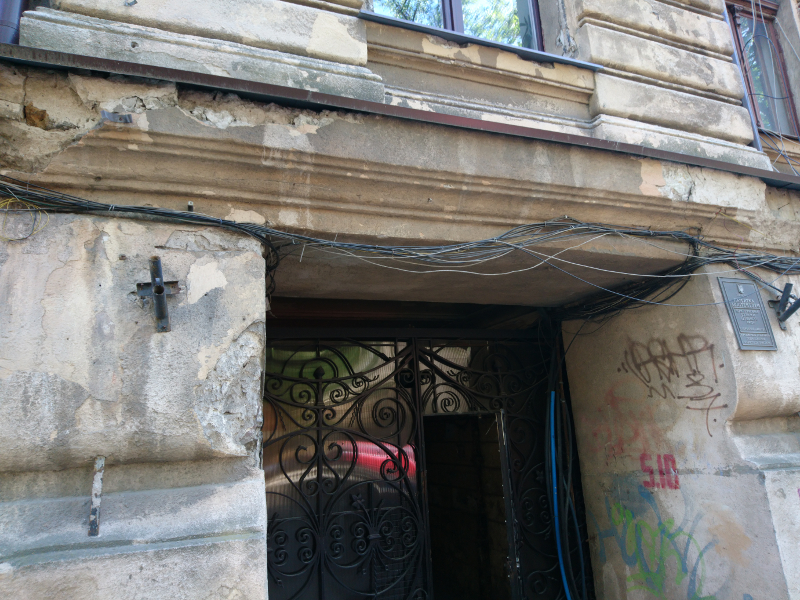 Therefore, she sits here daily and plays old Russian songs. For her high age, she looks very fit. This woman is really poor. But she plays music, does not give up her optimism, refrains from obtrusive begging. At the staircase another man sits in a crooked posture, holding a cup in his hand. He is easy to recognize as a homeless person. He looks neglected, dirty, his face scattered from life, his health eaten away by alcohol. I give him some money too. With bright eyes he takes it and tells me something incomprehensible, I understand only "thank you" and "brother". After our trip, we return to the hotel. Eat something, write, let the day pass, before we plunge into the nightlife again.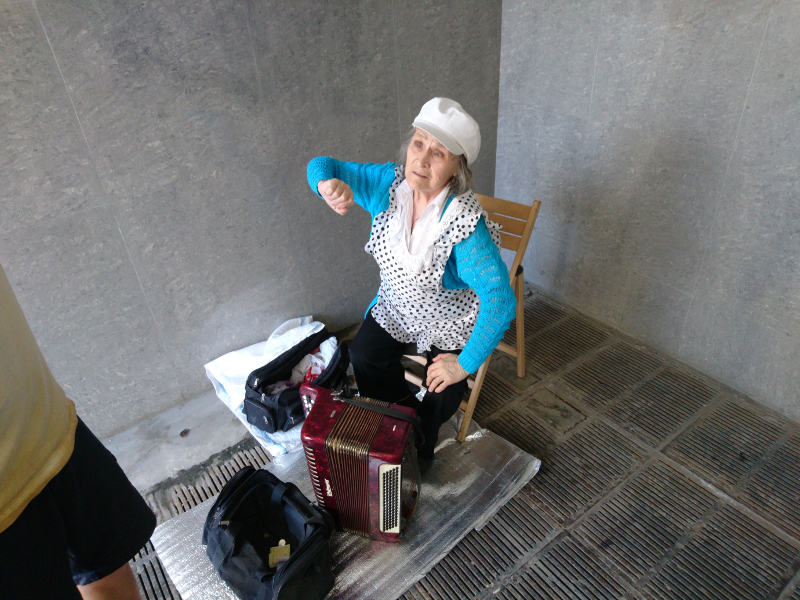 We are sitting in the restaurant of the hotel, as other guests press the loud ringing bell on the order counter, because it is currently not occupied. The kitchen door opens and the hotel cook sticks out his head. His deadly stare hits the terrified guests, they apologize immediately. Without a word he disappears into the kitchen again and lets the door clatter behind him. I cannot resist a loud laugh, because in the meantime I know him. Later in the evening, I notice another peculiarity in Odessa. You rarely meet drunks here, either in the restaurants or on the streets.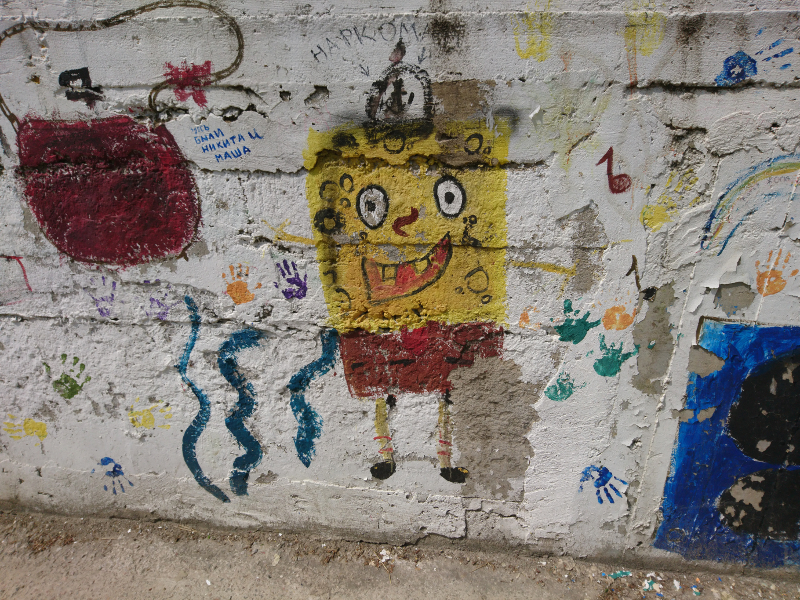 While in Germany, and especially in Austria, young people get drunk unrestrained until they lose control completely, here they give themselves unusually good manners in the nightlife. Either they have a higher appreciation for their own health or they just do not want to afford a full frenzy. But perhaps mass consumption is not acceptable here either, and the brains are not yet fully indoctrinated by western capitalist alcohol advertising. Cozy we let the evening end and our supposedly gay waiter brings the bill. He seems to like Rudi a lot and I'm really amused. Maybe, he should not have odered a sex on the beach.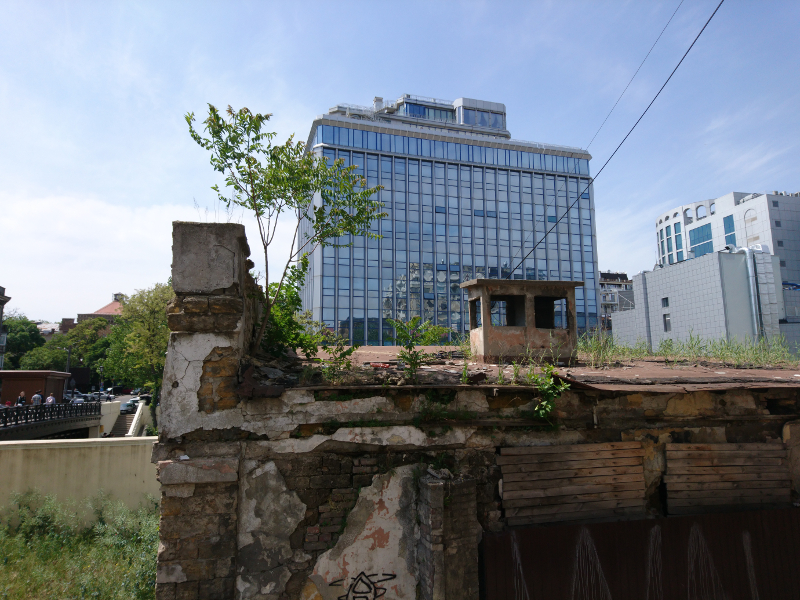 Homosexuality they seem to handle open in Odessa. In contrast to the big brother Russia there seem to be no stigmatization. Lesbian couples wander the streets holding hands and there are even some special men's clubs. As everybody would expect from a cosmopolitan city. However, the lesbians are clearly recognizable as such because they are the only women walking around with short hair. Unfortunately, this is not the case in our homeland, as we note to our great regret. The next day we make a boat trip, it goes out to the Black Sea. It takes about an hour, and the price is 150 hryvna per person. We can push the ticket for 250 hryvna for both of us.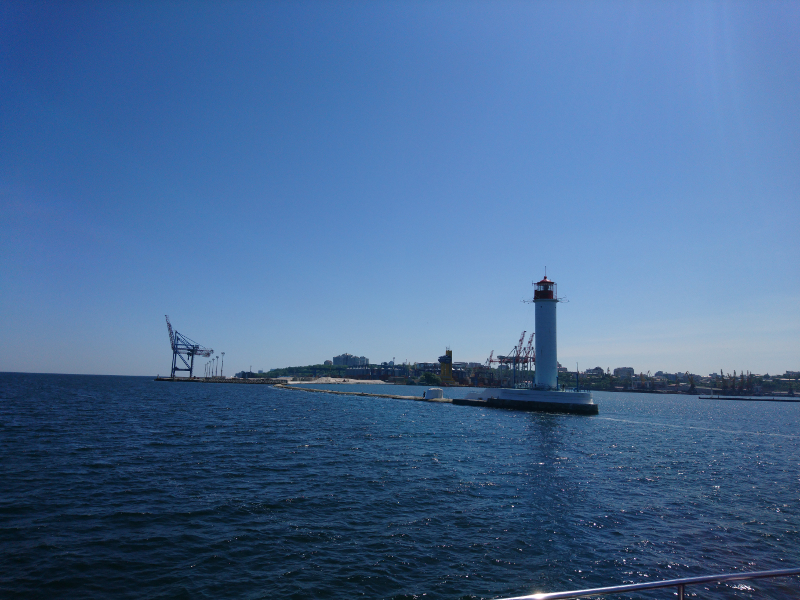 As expected, it is cold, windy and unspectacular. Strange soviet music blares from a loudspeaker, and in between a narrative voice in Russian tells of Odessa's sights. Historical aspects of the city are also illuminated and it is explained about the culinary features, as well as the advertising of some restaurants. After the boat tour our obligatory city tour follows. A black SUV parks in front of a police station, the vehicle is interspersed from bullets. Crime also has a tradition in Odessa, and the mafia's constant subliminal presence seems to be an integral part of the flair of this ruined and yet wonderful city.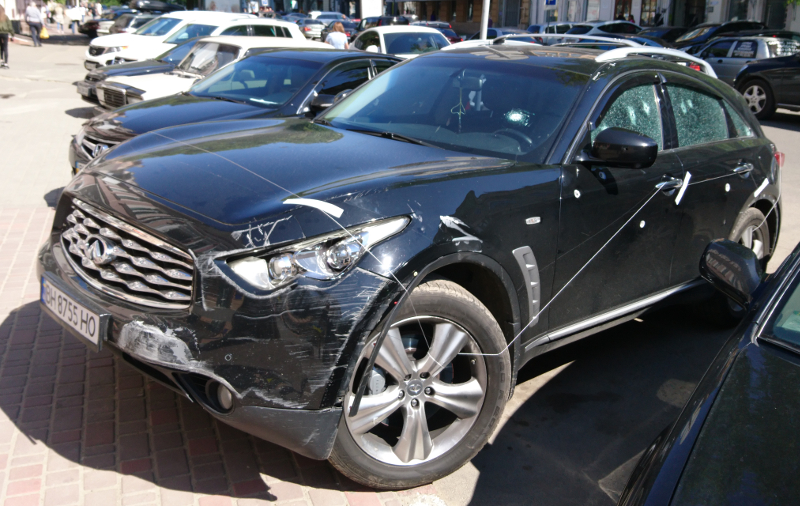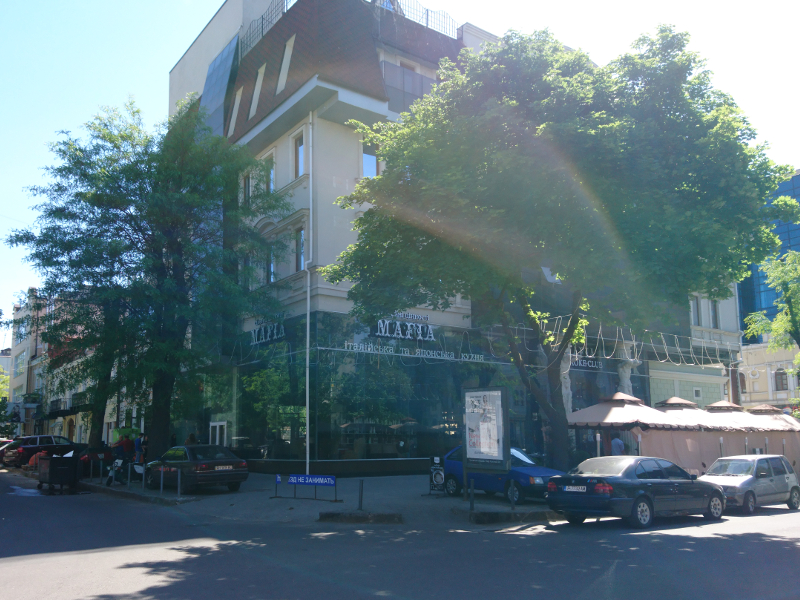 Without any doubt, Odessa is a city with two faces. It captivates you, kisses your heart, scares you, kicks you and spits you out again. You feel addicted of it and want more. The hustle and bustle on the streets seems calm, the crowd leisurely. People seem to enjoy life, seem to settle for little. Money only seems to be adapted to the end. The constant urge for better, faster, higher, further, as it is used to from Germany, is barely noticeable here. People do not wear that look, soaked in the eternal pursuit of money and recognition. In Odessa, you are just a human being, nobody is trying to tell you how it is supposed to be and no one wants to impose his world view on you.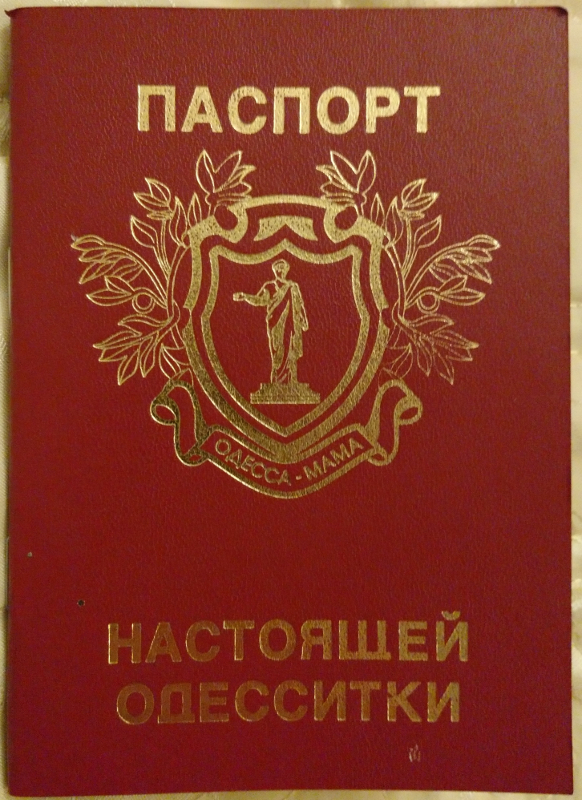 Of course, the dark sides also stand out clearly. We are told that medical care here is mostly miserable and expensive, wages are extremely low, there are hardly any social benefits, one in five lives below the poverty line, and the police is corrupt. You just cannot have everything and everything has its price. Striking is, however, that no one really complains. They seem to accept the grievances as such and to come to terms with it. That's why we always like to give a good tip to the honest people, because we know they can use it well.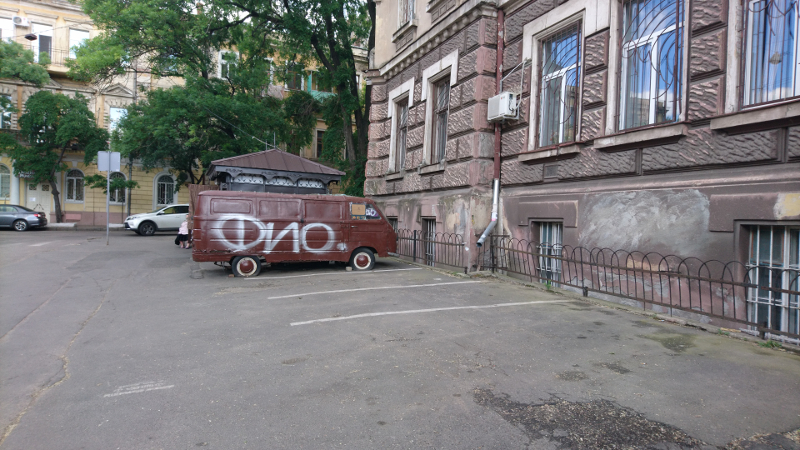 Sitting in our bar in the evening, I let the street scene affect to me. People are passing by on the sidewalk, followed by a pack of stray dogs, two young women on horses, one is painted like a giraffe. A dark car stops at the traffic lights, the bass drum, which sounds from inside, triggers the alarm system of a parked car. As soon as the traffic light switches again, the cars are honked, raced, overtaken. Just crazy this city. Even the fake crutches beggar and his colleagues are back and doing their mischief.
In fact, most of the nightlife seems to be on the street, but I know that already from other countries. In Germany, this would hardly be possible, because within a few minutes residents and neighbors would feel disturbed. In Odessa, they take the background noise of the night as a normal condition, intolerant philistines are searched in vain here. Wistfully, I think of our upcoming departure.
Rabotnik's Odessa-Story [ Chapter 6 ] Goodbye Odessa
Translation from the german original version by Rabotnik